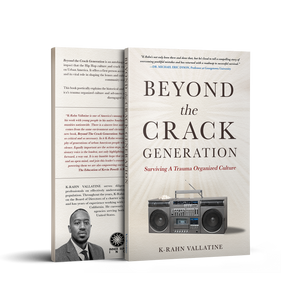 K-Rahn Vallatine's new book, Beyond The Crack Generation: Surviving A Trauma Organized Culture, takes readers on an autobiographical journey to explain how dysfunctional, counterproductive behavior became a cultural norm for prosperity and survival among youth. Addressing the pervasive and lingering impact that the crack cocaine epidemic had on mainstream Hip Hop culture and Urban America as a whole, it answers the echoing question: How did our young people lose their way? It also delivers the solution-based lens needed to reclaim and help heal today's disengaged youth.
"K-Rahn's not only been there and done that, but he's lived to tell a compelling story of overcoming youthful mistakes and has returned with a roadmap to successful survival. And he does it without rancor, finger pointing or a sense of moral superiority."
-DR. MICHAEL ERIC DYSON, professor of Sociology, Georgetown University
"K-Rahn Vallatine is one of America's unsung leaders and heroes. I have long admired his work with young people in his native Southern California community, and with communities nationwide. There is a sincere love and respect he has for our youth, because he comes from the same environment and circumstances as many of them. This is why his new book, Beyond The Crack Generation: Surviving A Trauma Organized Culture, is so critical and so necessary. In it K-Rahn weaves his own autobiography with the biography of generations of urban American people who have been devastated by drugs and violence. Equally important are the action steps, are the solutions, and that is where his visionary voice is the loudest, not only highlighting the hardships and challenges, but a way forward, a way out. It is my humble hope that you will read this book with an open heart and an open mind, and join this leader's crusade to uplift young people. Because in empowering them we are also empowering ourselves."
—KEVIN POWELL, author of The Education of Kevin Powell: A Boy's Journey into Manhood